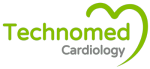 Technomed is a UK based company specialised in the provision of cardiology diagnostic services and the supply of related products.

Technomed's CQC registered diagnostic cardiology division trades under the name of ECG On-Demand ®.
Technomed's award winning ECG interpretation and Holter service platform is known as ECG Cloud ®.
An extensive range of essential parts and accessories for busy EP, pacemaker and ICD implant centres.
Reliably diagnose the cause of palpitation, irregular pulse, pre-syncope, syncope, breathless, etc...
connect to electronic patient records and cardiology expertise with
CARDIOLINE