Deliver care closer to home whilst reducing secondary care patient referrals
ECG Cloud allows you to deliver specialist cardiology care locally and to only refer patients on to hospital when appropriate.
Clear Reports
Every resting ECG report offers a clear, consistant diagnosis and patient management advice. Our unique "Traffic Light" system allows patients to be triaged efficiently.
NHS Compliant Security
NHS data is transmitted securely over the N3 Network. Information Governance issues are managed by NHS West and South Yorkshire Clinical Commissioning Support Unit.

Why Do I Need ECG Cloud?
The ability to acquire a high quality electrocardiogram and accurately interpret it, without specialist cardiology training is a recognised problem both inside and outside a hospital environment. Many ECG machines are available with built-in computer generated ECG interpretation but whilst these are sensitive, they lack specificity. The large number of false positive results that are produced, lead to unnecessary patient referral and anxiety. In addition, the absence of a relevant patient history reduces the likelihood of providing accurate patient specific advice. The 2007 SAFE trial concluded that clinical studies suggest that non-cardiology clinicians have difficulty in interpreting all types of ECG when compared to cardiologists. The historically paper based process of printing and scanning, followed by faxing or posting ECGs for expert interpretation is often extremely time-consuming, inefficient, and results in poor quality tracings. The ECG Cloud service was developed to:
Preserve the fidelity of the original recordings in digital format
Speed up the reporting process
Improve efficiency by integrating with existing systems to streamline referrals and subsequent patient management.
Although we recommend ECG Cloud is used with the Mortara range of ECG machines, ECG Cloud allows the option for digital upload of an ECG from any ECG machine brand. By directly engaging specialist cardiology expertise at an early stage, a secondary care referral only occurs if the diagnostic result indicates that secondary care attention is immediately required or that all diagnostic or treatment options have been exhausted in primary care. This strategy has significant economical and patient healthcare benefits. As our team of experts operate remotely, we deliver a scalable and flexible service that easily accommodates the requirements of our customers 365 days of the year 24 hours a day.
"The ECG machine is really easy to use and the process of sending through results is very slick. We have even managed to train the GPs here to refer electronically without having to inflict too much pain upon them! ECG cloud is fabulous for patients as they do not have to sent off to secondary care to have the procedure undertaken. It is costing us much less than a secondary care procedure so saving money. The project must be seen as meeting the local QIPP scheme."
Lisa Eve –
Clinical Services Director,
Cricket Green Medical Practice
What is ECG Cloud?
ECG Cloud is a "state-of-the-art" internet based ECG reporting, interpretation and patient management advice telemedicine service. It allows ECG data together with accompanying patient history/medications to be acquired from multiple sites and digitally transmitted to experienced cardiology experts for remote analysis. An ECG machine can be placed in a stand-alone clinical environment or can be deployed in a hub & spoke configuration.
Both acquisition and reporting are carried out under strict quality control. Optimum reproducible patient management advice is ensured by our award winning algorithm that has been developed in-house by our eminent cardiology consultant team. Neither the identity of the patient or the referring practice is disclosed to the clinical analysis team. The result is a data secure service that delivers high quality easy to understand ECG reports quickly and conveniently to the referring clinician via email or web portal.
To ensure the appropriate levels of governance and to further enhance our systems, both our reporting clinicians and our clinical algorithm performance are subject to continuous consultant cardiologist audit.
Your ECG Report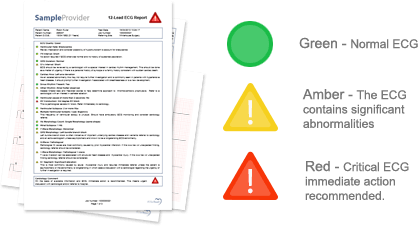 Each resting ECG report features our unique Green – Amber – Red "Traffic Light" system, instantly alerting the recipient to the severity of the ECG at a glance. Click here to see a sample of our standard report

Step 1
The patient recording is acquired and securely transmitted over the internet to the ECG Cloud server.

Step 2
The transmitted data is analysed by a cardiology specialist who classifies each element of the ECG.

Step 3
The ECG report is delivered to the GPs PC, featuring a clear traffic light status and cardiology comment.
Features and Benefits

Diagnosis and Advice in Plain English
Detailed cardiology diagnoses and patient management advice explained clearly in GP friendly plain english.

Clear "Traffic Light" Status
Clinicians can easily prioritise their work at-a-glance using the ECG Cloud "Traffic Light" status. Green = Normal, Amber = Abnormal and Red = Critical… simple!

Quick and Easy ECG Report Requests
Refer your patients in to the ECG Cloud virtual outpatient department with a single click from TPP SystmOne patient record. Alternatively patient registration can be accomplished in 30 seconds using a simple online form. See a video demenstration of patient referral:

Import Reports Directly Into Your EPR System
Import your ECG reports to TPP SystmOne EPR (electronic patient record) with a single click.

Instant Reports Via NHSMail Secure Email
Register an email address with ECG Cloud and receive all reports the instant our clinicians have signed off the results. NHSmail is approved for transfer of patient data and other sensitive information.

Structured ECG Reporting Protocol
All ECGs are reported using a standardised reporting protocol. This ensures all ECG's are reported in a reproducible manner.

Patient Management Algorithm
The use of a proprietary sophisticated patient management algorithm ensures consistent advice is given as per established best practice.

High Fidelity ECG Recordings
Using the Mortara ELI 10 ECG machine, high fidelity ECGs (1000Hz) are recorded and transmitted in raw data format directly to the reporting server without loss of signal quality.

Check ECG Quality Before Requesting Report
Using the ECG Cloud "Hub Port" tool, your ECGs will appear full screen in your browser window just seconds after transmission, allowing you to reject poor quality ECGs. Poor quality ECG's mean poor quality reports.
Regular Auditing Procedures
For quality control and to further enhance our systems, both our clinicians and clinical algorithms are subject to continuous audit by consultant cardiologists.

Supports Hub and Spoke
A hospital grade ECG machine can be placed in every clinical environment or can be deployed in a hub & spoke configuration. This allows a system to be configured for either maximum convenience or maximum equipment utilization or a combination of both.

Detailed Reporting
All activities including transmission times, interpretation times, access control and more, are logged. Bespoke reports can be created.
Register Your Interest
If you are interested in the ECG Cloud service or wish to arrange a live demonstration, please register using the form below and a member of our sales team will contact you as soon as possible.
Products
Every resting ECG report offers a clear, consistent diagnosis and patient management plan. This includes our unique Green – Amber – Red "Traffic Light" system, instantly alerting the recipient to the severity of the ECG at a glance.
Pricing is available upon request