ECG Cloud Digital Cardiology Service
Easier & quicker 24hr to 7day Holter Analysis
We use cutting edge easy to use equipment. We are accredited by the Department of Health HSCIC as a NHS Business Partner/ITC/ALB and have passed our IG Toolkit). NHS patient identifiable data is stored on UK NHS servers and are n​ot ​Internet facing. Our clinical staff are all UK based and accredited which means sensitive citizen data is never sent offshore. All work is overseen and audited by senior NHS consultant cardiologists.
We are one of the few private sector providers that are fully complient with both the Data Protection Act and Department of Health guidelines.
CQC (provider number 1-2159303816)
ICO (registration number ZA083437)
DoH HSCIC (registration number 8HR58)
Holter Analysis
The ECG Cloud Holter monitoring and analysis service takes advantage of some of the most advanced, patient friendly ambulatory ECG recording equipment available today.
The service is extremly easy to use for both patient and clinician.
configuration and patient takes a few seconds (no patient identifiable data is stored on the device)
Fitting is so easy it can be even be done by the patient.
ECG quality is excellent
Fit and forget - no need to remove the device when showering
Easy data transfer via post or WEB upload
Report delivered next business day

Traditional 24 Hour Ambulatory ECG
Typically many patients wait weeks for their appointment for 24hr ECG and then wait weeks for their results to be delivered. These delays prolong the time to diagnosis and treatment and could result in otherwise unavoidable events taking place.
ECG Patch Holter Analysis Service
Our NHS Information Governance Approved service utilises the latest technology to provide patients and healthcare professionals with a simple to use, discreet and unobtrusive device that enables rapid direct access to diagnostic services.
Our Service:
We utilise the latest Holter technology in the form of ScottCare's new n​ovi Patch Holter recorder. Weighing in at just 15g, the n​ovi​is small lightweight and unobtrusive ensuring maximum patient compliance and improved diagnostic yield.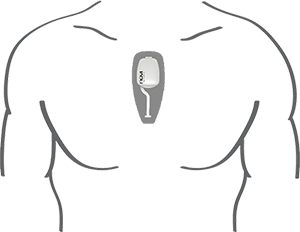 Single Electrode Patch
✓ Body hugging
✓ Reduces artifact
✓ Easy to fit
✓ Shower proof
✓ Disposable
Attach n​ovi ​to the electrode patch, then place on the sternum. Recording begins automatically and continues until removal.
No wires · ​ No batteries · No flashcard · ​No pouch · ​No waiting · No inconvenience
Data captured by​novi i​s sent securely to our team of UK accredited Cardiac Physiologists who analyse the information and provide a detailed Holter report. This report is delivered by either our secure ECG Cloud or secure NHS.net mail. Reports on ECG Cloud are available for viewing or transfer to the electronic patient record system.
Our Cardiac Physiologist team typically detect and quantify the following:
Normal Sinus Rhythm
Atrial Fibrillation/Flutter
Asystole (Pauses)
Sinus Bradycardia
Sinus Tachycardia
Narrow Complex Tachycardia
Wide Complex Tachycardia
2nd Degree Block Type 1 (Wenckebach)
2nd Degree Block Type 2
3rd Degree Block
Bundle Branch Block
Premature Ventricular Complexes (PVCs)
premature Atrial Complexes (PACs)
Register Your Interest
If you are interested in this service or wish to arrange a live demonstration, please register using the form below and a member of our sales team will contact you as soon as possible.