Resting ECG Interpretation
High quality, easy to understand reports containing expert ECG analysis & interpretation together with clear patient management advice . High fidelity ECG's acquired using state of art easy to use equipment. When it matters, results delivered on a while u wait basis.
Ambulatory ECG Analysis
Simply book the patient in for Holter Analysis. A preconfigured recorder will arrive the next day. Fit the recorder and after 24 hours return it using our prepaid courier service. A high quality report will be delivered within 24 hours of receipt. All without the patient leaving the site.
Ambulatory Blood Pressure
Simply book the patient in for 24 Hr Ambulatory Blood Pressure Monitoring. A preconfigured ABPM will arrive the next day. Fit the monitor and after 24 hours return it using our prepaid courier service. A high quality report will be delivered within 24 hours of receipt. Follow NICE guidance without the patient leaving the site.
Why Do I Need a Cardiology Telemedicine Service
Prisoners are entitled to the same health care and treatment as anyone outside prison. Health care is normally managed onsite by the prison health care team however there are circumstances where the unavailability of local expertise or facilities necessitates referral to secondary care. Secondary care referral in the prison environment is both resource intensive and expensive. Cardiology Telemedicine allows the health care provider the ability to provide the same standard of health care to the prisoner without the delay and expense associated with physically sending the prisoner to hospital.
We supply all the equipment – there is no requirement for capital equipment outlay.
The service has been designed to:
Yield high quality patient recordings – essential when referring on to secondary care
Produce high quality intelligible reports – ensure optimal patient management
Be quick – fully integrated with SystmOne Prison
Be secure – All patient identifiable data is encrypted, prisoner ID is not disclosed to the external reporting service.
The ECG Cloud cardiology service has delivered on 3 fronts: 1. Improved clinical governance – Our onsite healthcare professionals are no longer burdened with responsibility of interpreting ECG's and the consequences of getting it wrong. We leave it to the experts. 2. Reduced referral and associated prisoner transport costs. Secondary care referral has been recommended in less than 15% of ECG's submitted for interpretation. Of that 15%, the vast majority have handled by virtual outpatient teleconferencing. 3. Improved patient care – Audit has shown the service has picked up rhythm abnormalities that would have not been apparent to our own doctors. The while-u-wait means we have an on call cardiology expert at hand so high risk patients can be identified and managed without delay. The hospitals that we refer our patients onto have been very happy with the quality of ECG report that accompanies the patient referral.
Michael McGonnell
Deputy Head of Commissioning,
NHS England (Offender Health).
Case Study
North East Offender Health (06/02/2013 – 23/07/2013)
Following a death in custody that the Coroner felt may have been due to an incorrect ECG interpretation by a prison GP, the commissioner took the decision that all prison ECG's needed to be reviewed by a cardiology expert to reduce the risk to both patient and provider. Two options were considered:
All prisoners requiring a 12-lead resting ECG's would be referred to their local hospital with associated outpatient costs, transport costs, delays and inconvenience.
All prisoners requiring a 12-lead ECG would have the test performed within the prison environment and then transmitted to an external ECG reporting service.
Option 2 was selected. The service was commissioned in February 2013 by North East Offender Health Commissioning Unit, NHS County Durham. The service was rolled out to 8 prisons with a total population of:
Number of patient ECG's amber (medium risk)31Average report turnaround time1hr 14mins
| | |
| --- | --- |
| Date of the first prison ECG interpretation | 06/02/2013 21:41:25 |
| Number of ECGs done (interpreted) | 245 |
| Number of patient ECG's red (high risk) | 1 |
How the Figures Add Up
| | |
| --- | --- |
| Physical referral of prisoner to secondary care | ECG interpretation using ECG Cloud |
| 2013 PbR cardiology outpatient appointment charge excluding market force factor = £166 | ECG interpretation charge including equipment loan = £35 |
| Prisoner transport charge = £150 | |
| Total cost per ECG = £316 | Total cost per ECG = £35 |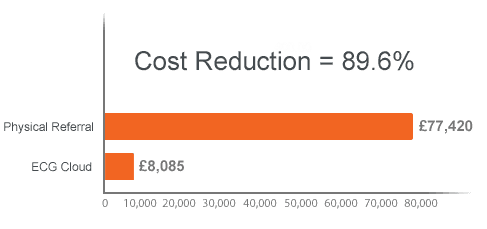 During the period of the case study ECG Cloud delivered an estermated cost saving of £69,335 equivalent to 89.6%.
Register Your Interest
If you are interested in the ECG Cloud service or wish to arrange a live demonstration, please register using the form below and a member of our sales team will contact you as soon as possible.